I did not make clay things last night. Instead we rewatched the Rashomon episode of Leverage with friends, paying attention to the little differences between scenes. So I don't have any clay craft pictures to share.
But I've sewed a little recently, making.... a test skirt:
Sister
and I have planned to go as gangster girls this Halloween, using Simplicity pattern 3629: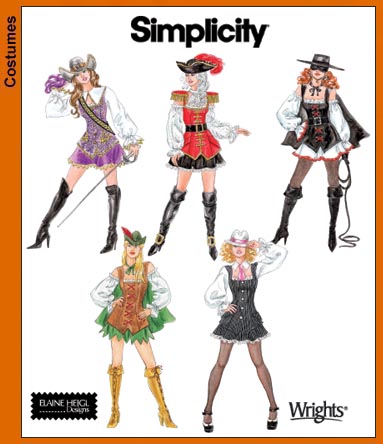 But, looking at the way the pattern was put together, we weren't happy with the underdress. Those sleeves, on top are part of the skirt on bottom, cinched in the middle with an elastic band under the bustline. The idea of the pattern seems to be to use the vest for shaping. Because I'm oddly persnickety about some things, I didn't like that, so I'd been
not-sewing
for a few weeks as I considered how to fix the matter. It may be a simple enough plan, to make the skirt and top separate, but what pattern should I use for the skirt? Which style skirt did I want.
I ended up deciding on this one (partially because I already had the pattern in my drawer -- I liked the waistband)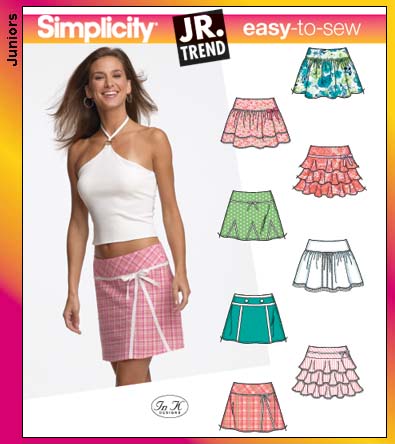 See the one with the three layered ruffles? Yeah, I used the bottom ruffle in a thick fabric, similar to the style we chose for the gangster outfit, and made the waistband out of a stretchy knit because I hate zippers. The only thing I'm missing right now (because I was in a hurry) is the built-in shorts I put under any skirt whose bottom hem doesn't quite reach my knees. (My preference in skirts is ankle-length. Or built-in shorts skirts that probably make people think I'm flashing them because I treat them like shorts.)
But, back to the point, We like the flared shape and will probably go with this -- I'll just have to be a little careful matching up the stripes when I get that far.
Next step, finding a knit fabric that matches the green/gray of our chosen business stripe fabric.